The first cleaning we do is called The Initial Cleaning. This is an especially thorough cleaning that insures that everything throughout the home and office is cleaned. Below is a brief explanation of what our cleaning process entails. For a more complete description, please refer to our cleaning description documentation.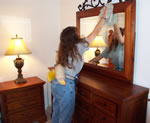 We start at the top of each room by dusting with an expandable duster to get the tall corners, and woodwork around the top of each room. Then we clean the light fixture(s), all pictures, accessories, and mirrors. Next we start cleaning the other accessories throughout the room. We dust the blinds (wipe if needed)., We wipe the window sills off, and wet & dry wipe all of the baseboards. We clean all the furniture, finishing with a polish. All the doors and doorframes within the room are also wiped with a damp cloth and then dried. If you have hardwood floors we dust mop them, then we damp mop them.
In addition we do the following:
All bathrooms are detail cleaned, top to bottom, using tilex if necessary. If you have tile walls they will also be cleaned.
Kitchens are detail cleaned top to bottom, also top of the cabinets are wet & dry wiped.
All doors and doorframes throughout the home are cleaned.
Exit doors throughout the home are cleaned inside and outside.
All carpet is vacuumed throughout the home.
All hardwood and tile floors are dust mopped, and wet mopped.
All upholstery is vacuumed, including under the cushions.
Porch, steps, and sidewalks are swept.
Light switches, and doorknobs are cleaned.
Inspection of the home and office is done.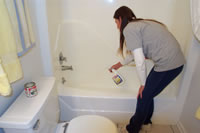 Each time a cleaning is performed our employees fill out a Cleaning Checklist to let you know exactly what was done, and to alert you to any problems or issues they encountered. As a further step to insuring your satisfaction, I periodically inspect your home while it is being cleaned. When this inspection occurs you will receive an Inspection Notice from me letting you know that I have been there and observed my employee to make sure they are performing at the high level of quality that I require.
After the Initial Cleaning is done we can set up your Regular Cleaning. The Regular Cleaning is to maintain your home. We take on the responsibility for cleaning so that you do not have to worry about it therfore freeing up your time to do the things you need/want to do.Your cleaning day will be set up on a specific schedule, with a specific employee. If your regular cleaner is out, an employee who is also familiar with your home will be sent to do the cleaning on your regularly scheduled day.
Millis Cleaning Service has very high standards of cleaning and only employs those who care about the cleaning they are doing in our customer's home or office. Quality employees are hard to come by but they are out there. We hire the best.