Below are written and oral comments from some of our clients:
Recently received via email:
Subject: WOW! Thank You!
From: B. Kroh
Date: Sunday, 11 Oct. 2009 5:25 PM
Jeff,
Words will never express how pleased Doug and I are with the initial cleaning of our house done by Rosa, Sharon, and Cindy last Friday, October 9. I have lived in my house two days since the cleaning was completed, and I continue to be impressed and very pleased with the work they did. Thank you for selecting such an outstanding team for us. They have really set the bar extremely high for whoever does the other cleanings for us.
I was pleased with the service I had in Charlotte; however, you and your team have really "WOWED" us! I was amazed at how long they were here. It was surprising to see others on their hands and knees scrubbing. Some of my friends tell me I am crazy to be cleaning on my hands and knees.
Rosa, Sharon, and Cindy are not only great professional cleaners, they also have a great sense of design. The repositioned some things and I liked the changes they made. And, they were very friendly; however, they did not waste any time chatting. They seemed to enjoy working together and took pride in the work they did. Great teamwork!
Jeff, I was impressed with you when we met last Tuesday and loved hearing your story and how your cleaning service came into existence. I will be sharing your story with others; it is very motivational.
We look forward to your future services. If Rosa, Sharon, or Cindy mentioned anything we should do before the service providers arrive next time, please let me know.
This week I will call the security company and create a code for you.
I wish you and your team the best as you continue to make a difference in other individuals and families homes and lives. Many thanks to you all.
Kindest regards,
B. Kroh
---
"I have employed the services of Millis Cleaning for 4 years now. They are on time and can create a flexible schedule to meet my needs when necessary. I am a busy single professional who thinks of himself as relatively organized and neat, yet Millis and his team impress me by regularly helping to make my house a home!"
P. Haun
---
Listen to Ray's comments:

Play Stop
---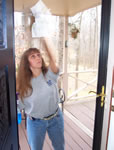 "Just a note to let you know how much I appreciate you and your company. You were recommended to me by someone I work with and by someone I respect very much. I have not been disappointed.
C. has been cleaning my house for over two years now and she is an absolute dream. She is a joy! She is sweet, incredibly thoughtful and does a wonderful job. I feel like she really loves my house and when I come home, I feel like my house is glowing. It is immaculate and it has a wonderful clean smell. I really appreciate the comment sheet C. leaves informing me of what she has done and her suggestions. You guys have been a great addition to my life."
J. Gross
---
Listen to Rick's comments:

Play Stop
---
"Thank you so much for the wonderful way my home looks and smells after you have been there. Your ladies do such a thorough job, top to bottom, crooks and crannies, patio, garage and sidewalk. I feel like I have known these hard working, dependable and trustworthy women for a long time. I am a very happy customer and will recommend you to everyone I know."
D. Prince
---
Listen to Sue Swing's comments:

Play Stop
---
"Millis Cleaning has been cleaning for me for 2 years and do a very professional and thorough job. They are always on time, and have never missed a schedules cleaning for me. They are very courteous and always welcome any suggestions of comments on anything that they can do to make the customer happy. They are the most professional cleaning company I have ever used, and I highly recommend them."
B. Varner
---
Listen to Chris Newbold's comments:

Play Stop
---
"The purpose of this brief letter is to affirm the positive performance of Jeff Millis and Millis House Cleaning at our personal residence. We have been completely satisfied with all aspects of their business:
Initial contact, timeliness, and professional courtesy
House walkthrough for the cleaning quote
Initial Heavy Housecleaning results
Bi-weekly house keeping activity
Honesty and Integrity of their staff
Pet awareness while cleaning activity is taking place
As you can tell from the above, my wife and I would be glad to recommend their services to prospective clients/customers."
T. and J. Morgensen
---
Listen to Hal Surratt's comments:

Play Stop
---
"In today's times, it's becoming a challenge to find companies that pursue perfection daily. I have found by using Millis Cleaning Service I receive an excellent service and attention to detail each and every time they enter my home."
G. Clark