How do you set your pricing?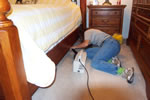 Before we can give you a price, we must first inspect your home or business to determine how much time and how many employees will be needed to do the cleaning. Our prices reflect the thorough cleaning job done by our experienced employees. We pay top dollar to retain our highly qualified and dedicated staff. For a complete description of how we determine our prices, please see our pricing page.
Will you use my cleaning supplies?
Everything in your home will be thoroughly cleaned using our supplies and equipment. If you wish us to use a particular cleaning product it must be preapproved by me (Jeff Millis) prior to its use - this is to ensure the quality of the cleaning process and the safety of our employees. Each of our employees fills out a Cleaning Checklist each time they clean your home to let you know exactly what was done, and to alert you to any problems or issues they encountered. See Our Cleaning Process for a full explanation of how we clean.
What if my regular cleaning person is sick on my cleaning day?
We will make every effort to get a substitute cleaner there on your scheduled day, we guarantee your home will be cleaned during its scheduled week.
How can I secure the safety of my residence with Millis Cleaning Serivce?
We are bonded and insured. We do a 20 year criminal background check on all potential employees. If anything is broken or damaged during the cleaning process it is documented by the employee and the customer is notified so they may contact our office for reimbursement.
What happens if I'm not happy with my cleaning?
If for any reason you are not satisfied with your cleaning please contact our office and we will try and correct the problem that day or as soon as possible after you call. To insure your satisfaction, I periodically inspect your home while it is being cleaned. When this inspection occurs you will receive an Inspection Notice from me letting you know that I have been there and observed my employee to make sure they are performing up to the high level of quality that I require.
Do you do clean carpets?
We do not clean carpets. We will be happy to recommend a highly reputable carpet cleaning company to you for that work.
Can you do emergency cleaning?
If you are one of our regular clients, we will do everything possible to accommodate your needs.